By: Zach Hernandez @Zachhernan)
Overview: Hansen did not break out of his shell until his senior year of high school. He is from Moorpark, CA but due to a lack of other options, he started his collegiate career at Idaho State. Coming out of high school, Hansen earned first-team All-Marmonte League and All-Ventura County honors, as well as team MVP in 2012, as he caught 49 balls for 882 yards and 12 touchdowns, averaging 18.0 yards per reception. Still, Hansen only received one offer – Idaho State; so Chad packed his bags & headed north! However, Chad's aunt Laurie had been ill for years with lung cancer and the illness was finally taking a major toll on her health. By the end of Chad's freshman year, his aunt was using an oxygen tank to breathe. So, he finally decided to come back home and play ball at CAL. They were after all, the only other team to give Chad a shot. He's 6'2″ 202lbs. so he does have a good size to him, but could still bulk up a bit to an NFL size. He scored 11 TDs last year, despite missing two games with an ankle injury. The talented WR was one of Goff's favorites before he left to the NFL last year.
Strengths:
Able to get the jump, 50/50 ball more often than not.
Highpoints the ball exceptionally well.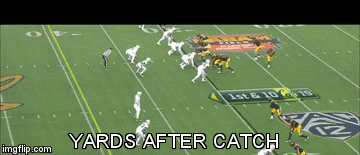 Over the shoulder catches are no problem for Hansen.
Has good timing. Jumps at the right time, seems to always be in the right gear.
Exceptional footwork, excels at sideline catches.
Doesn't let DBs box him out against the sideline.
Creates separation & catches the ball in small windows.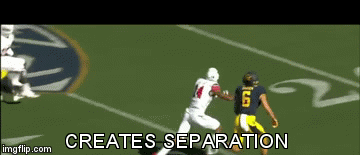 Weaknesses:
Strong press corners are able to neutralize Hansen.
Ran a basic offense at CAL
While he plays very physically, sometimes it is not consistent.
Banks on his physicality.
Still needs more polishing on route-running.
Overall: Hansen is a very talented WR who will probably go in round 2 or 3 of the NFL Draft. He could be used as a legitimate red-zone threat with the way he is able to win 50/50, jump balls. He is great at tracking down the ball and is able to use the sideline to his advantage. He is physical and plays like a dog, but he sometimes relies too much on his physicality and needs to work on his route-running to really succeed at the NFL level. He very well could be a sleeper WR in this draft with household names like Mike Williams, Corey Davis, & John Ross attracting all of the attention. Hansen has the potential to be a solid WR2 in this league. We all know aunt Laurie, and the rest of his family will be rooting for him wherever he goes.
NFL Comparison –
CEILING: Anquan Boldin
FLOOR: Allen Hurns